Payoneer for Freelancer to Receive Payment
Payoneer for Freelancer to Receive Payment
Getting payments for a freelancer is a task in itself. It has many nuances, like when to ask for the amount, the communication channel, and whether it is over the phone or email. In freelance, good communication is essential. How about the payment mode? If it is international, the payment mode will become a key factor.
The client needs to trust the method via which the payment is requested. It should be cost-effective, give a decent money conversion rate, and be quicker and more secure. Receiving prompt payments is critical for the survival of a freelancer. The payment method you choose to get paid should be efficient, and it should be described in your freelance contract.
Payoneer - payments processor
Payoneer is an international payment processor. They enable you to send and receive money across the border. Businesses and individuals can use Payoneer. It was founded in 2005 and with its head office in the US.
It supports more than 150 currencies and cross-border transactions. Freelancers can use Payoneer to receive direct client payments via freelance platforms and marketplaces.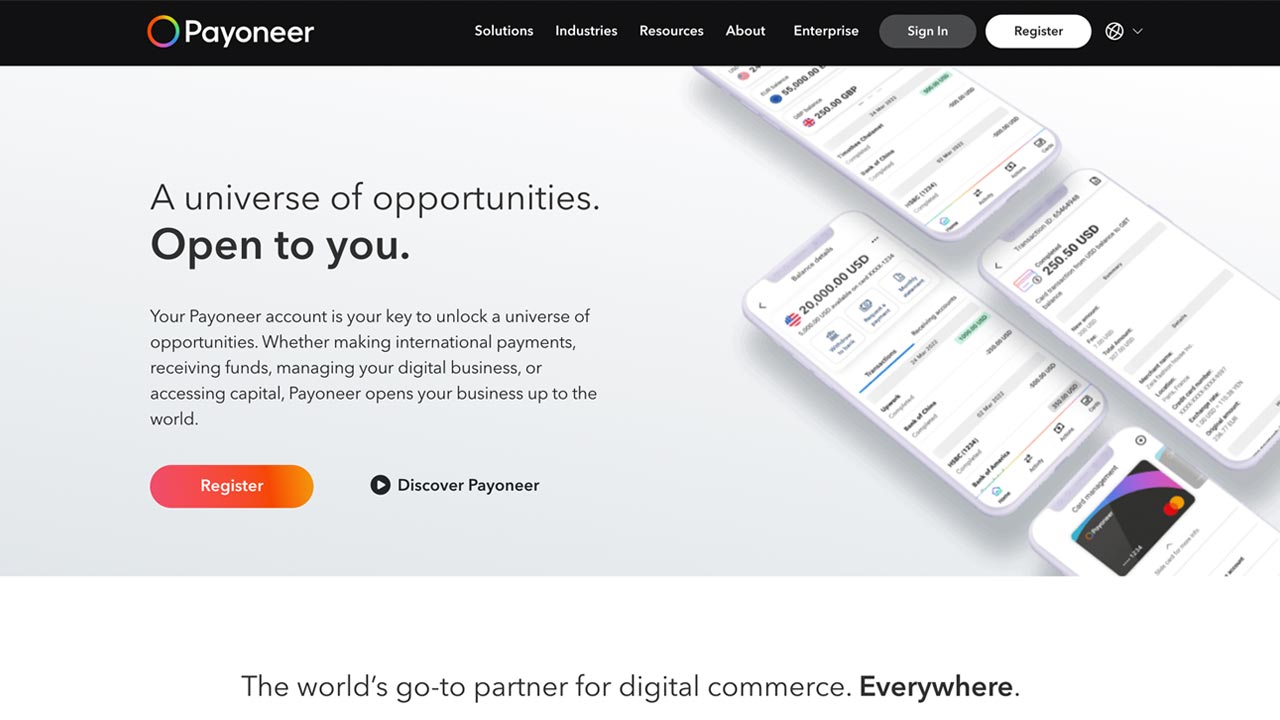 There are many advantages to using Payoneer. The top benefit is its low fee for sending and receiving payments. In addition to transferring money, Payoneer provides online tools to manage receivables and easy accounting.
Gradually, Payoneer has become popular among the freelancer community and micro business owners. It has also partnered with freelance platforms and large brands to boost its trust. If you are looking for a payment gateway, Payoneer is not one, and there are different choices. It is a payment processor only.
Advantages of Payoneer
Low transaction charges.
Provides a debit card.
Broad support in freelance marketplaces.
Receive payments from clients without a Payoneer account.
Low transaction charges
Payoneer became a viable alternative to PayPal by providing a low transaction charge. It is the most attractive feature for any user, mainly a freelancer.
"Money often costs too much." - Ralph Waldo Emerson
The client will not bear the transaction charges in many situations, and the freelancer must pay his money. In such a scenario, low transaction charges are a winner.
Provides a debit card
Unlike many payments processor, Payoneer provides a debit card. You can use it in an ATM to withdraw cash. It is a fantastic feature. Payoneer allows you to make online purchases, transfer money to your bank account, and withdraw cash from an ATM. This completes the entire option to use the payment amount you receive.
Broad support in freelance marketplaces
Freelance marketplaces like Upwork and Toptal support integrating your Payoneer account with them so you can get paid via Payoneer. Over the years, Payoneer has added a lot of marketplaces. Almost all of the freelance platforms have the option to receive your payment via Payoneer.
Receive payments from clients without a Payoneer account
As a freelancer, you will work with global clients. You can't expect all your clients to have a Payoneer account. Payoneer provides a feature to receive payment even if your client has no Payoneer account.
You should request the amount via the Payoneer dashboard.
Payoneer will send an email to your client with a link.
Your client will click that link and will get a form to make payment.
Your client can use his card or transfer via the bank.
Payoneer will collect and credit the money to your account.
Disadvantages of Payoneer
Cumbersome verification process.
Delay in approving payments.
Charges for unused accounts.
Many clients do not recognize Payoneer.
Fee for receiving and withdrawing money.
Cumbersome verification process
To make sure their system is not used for unintended purposes, Payoneer has a complex verification process. It requires many official documents and takes more time than you would anticipate.
Delay in approving payments
Sometimes, Payoneer delays approving the received payments. The uncertainty even prolongs to two weeks. You will never know why. I experienced it after opening the account in the early days. Some amount will get approved instantly. Payoneer has an algorithm that flags off certain types of payments for a manual review process. There will be no delay when you receive payment from renowned brands or another Payoneer account. This delay may happen until you start receiving payments frequently.
Charges for unused accounts
A freelancer will have multiple methods to receive payments. They use PayPal primarily and have Payoneer as a secondary method in case of contingencies. In such a scenario, leaving your Payoneer account unused for extended periods is possible. Do not be surprised to receive an annual fee of 29.95 USD. This applies to both the unused account and the Payoneer debit card. Payoneer does not want you to use it as a secondary option. Logical.
Many clients do not recognize Payoneer
I have experienced this issue. As a freelancer, when I list Payoneer as the payment method in the freelance invoice, the client asks, "what is it?" They ask for either a wire transfer or PayPal. But PayPal charges more than Payoneer. I struggle to explain and convince the client to use Payoneer as the payment processor. You should discuss all these in the quote discussion stage and include the preferred payment method in payment terms of invoices and contracts. Payoneer does not get listed in the best ways to transfer money internationally.
Fee for receiving and withdrawing money
Payoneer levies a fee for withdrawal, too—so double fee concept. When you receive money, it charges an amount, and on withdrawal again, it charges. For a freelance, it is costly. One solace is that the amount put together is still lesser than the fee other popular payment processors charge.
With this, we have gone through the advantages and disadvantages of using Payoneer as a freelancer. In conclusion, I would say the benefits outweigh the disadvantages.
Is Payoneer better than PayPal?
This is an imminent question. It will not be fair to make such a comparison, though. PayPal is a pioneer in this area and has been around for ages. They both are winners in different aspects. As a freelancer,
If you get frequent small payments, Payoneer is better than PayPal. If you do not have one, create a PayPal account first, as it is a must for a freelancer.
If your clients are predominantly popular brands, then go with Payoneer.
If your client is aware and has a Payoneer account, then you should use the same.
If you receive large payments and not so frequently, use PayPal. With Payoneer, there might be a delay in approving the payments.
If you work with lesser know countries from Africa or Europe, go for PayPal.
If you get frequent chargebacks, go with PayPal, which handles disputes better.
If you want an instant dependable settlement and are not worried about spending a few extra dollars, go with PayPal.
Should I use Payoneer?
Okay, after all these discussions, now you have arrived at whether I should use Payoneer. I would say yes. A freelancer should not be dependent on one method of payment. Keep both Payoneer and PayPal. Always use direct bank wire transfers. If your client cannot wire transfer, choose between Payoneer or PayPal. It would be best to select either by the logic explained in the above section. Whatever the situation, it is best to have a Payoneer account, which will come in handy.
How can a freelancer request payment on Payoneer?
A freelancer should do the following steps to request payment on Payoneer.
Log in to your Payoneer account.
Go to the "Activity" tab.
Choose your payment and click the "Request a Payment" button.
Input the details, payment amount, method, and currency.
Enter the email of your client.
Enter a message describing your payment request.
Click the "Send Request" button to submit the payment request.
Payoneer will email your client an explanation of how to make the payment. After your client sends the payment, Payoneer will approve it. On approval, the amount will be added to your Payoneer account balance. It will reflect in your dashboard. Then you can withdraw the amount to your bank account, spend it via online payment, or withdraw it as cash using the Payoneer debit card.