How to Create PayPal Account for Freelancer
How to Create PayPal Account for Freelancer
PayPal is an online payment processing company. It helps to send money between two parties online using the PayPal website, mobile APP, or the merchant's payment gateway integration. PayPal requires no introduction. It is the numero uno of online payment-enabling websites.
PayPal is primarily used for,
online shopping payments
transferring money to friends and relatives
freelance payments.
PayPal makes international money transfers easier. It was the pioneer of online money transfer technology. It has built up trustworthiness over the years. Users trust the PayPal logo and make payments without any worries. They feel safe that the money will not be lost over the Internet.
PayPal provides tools for managing disputes. Users can dispute the payment if they didn't get the intended product or services. In a global business scenario, we need a trusted partner to transfer the money when making cross-border payments. PayPal does that well and protects your money.
As a payment gateway service provider, PayPal was one of the most popular options for eCommerce businesses. Suppose you are a small business owner or a sole proprietor opening an online shop. In that case, you can build on PayPal's infrastructure and need not invest a significant amount for payment processing. PayPal provides tools to quickly integrate their payment gateway into your shop and start collecting payments. You will make payments based on the sale, with no monthly fees.
Advantages of using PayPal for a freelancer
As a freelancer, there are multiple ways to get paid. You will be working globally and need to receive cross-border payments. Wire transfer may be the popular and dependable option. But you cannot live without PayPal. Because of the convenience, it provides. All you need is just an email to get the payment for your freelance work.
Ease of getting the payment. Just an email is enough.
Instant payment. You will get money in your PayPal wallet in seconds from any country.
Seller protection. PayPal helps to protect from losing money to claims, chargebacks, and reversals. Provides complete protection on "Item not received" and "Unauthorized transaction."
PayPal is the default payment mode in many freelancer platforms.
You can withdraw the amount to your bank and spend it on online payments.
PayPal is trusted by users worldwide. Requires no introduction. As a freelancer, you must have a PayPal account with the clients.
PayPal provides an additional invoice generator tool using which you can send your freelance invoice.
Personal account Vs. Business account
PayPal provides two types of accounts: personal and business. Using a personal account, you can do the
Online purchases
Send money to family and friends
Send money as a gift
PayPal recommends a business account if you are an
Online merchant operating under a company or group name.
Accept debit card, credit card, and bank account payments
Provide business services and get paid online.
Give limited access to your PayPal account to your employees
Freelancers should create a PayPal business account to receive client payments. Freelance platforms like Fiverr require a PayPal business account to receive your project payments.
Requirements to create a PayPal account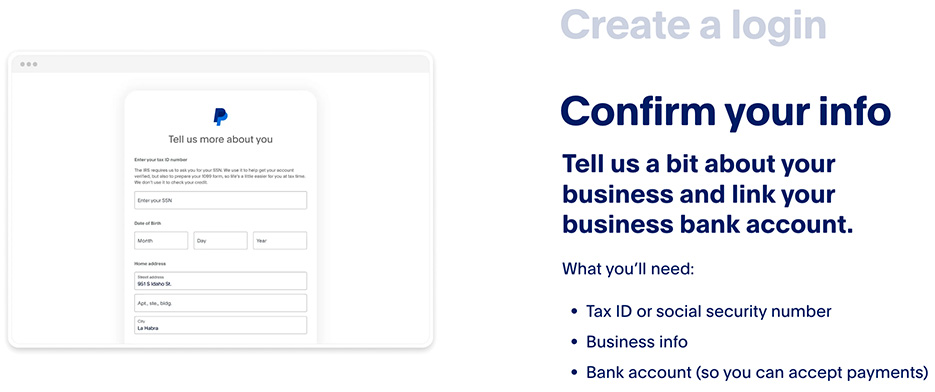 You only need your personal information to create a PayPal personal account.
First and last name
Address
Phone number
Email address
It is as simple as that. You can create a personal account and share it with the other party who wants to send money to you. PayPal will be a digital wallet holding your money, just like a bank account. When you get the money, you will get an email notification. You can log in to your PayPal account and see the account statement and balance. You must add your bank account to your PayPal account to withdraw the money. But this step is optional as you can also spend money online.
PayPal fees and pricing
To understand how PayPal pricing works, please look at the infographic below. It explains online payment processing and the pricing structure, and various fees.
Source: PayPal - Pricing
Requirements for PayPal Business account
First and last name
Address
Phone number
Email address
Tax ID or social security number
Business info (document proof required)
Bank account (to accept payments)
Tax ID / SSN depends on the country you reside. For example, if the US, it is SSN; if India, it is PAN.
Steps to create a PayPal account
Choose your account type.
Enter personal information.
Enter the business type.
Enter the business information.
Confirm your email address.
Submit proof of identity.
Link your bank account.
1. Choose the PayPal account type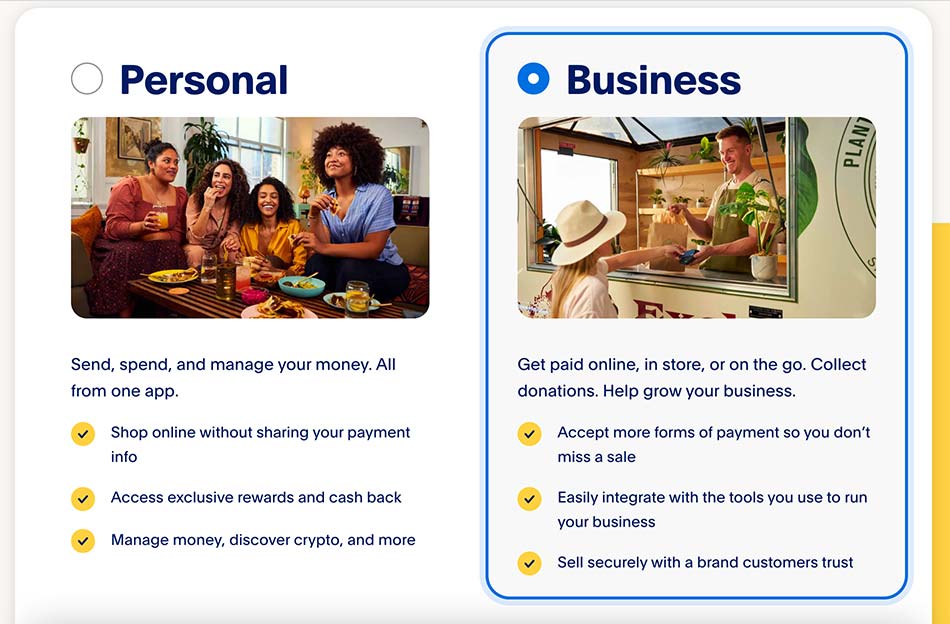 Between personal and business, choose an account type. Since you are creating an account to use as a freelancer, you should select the 'business' PayPal account.
2. Enter personal information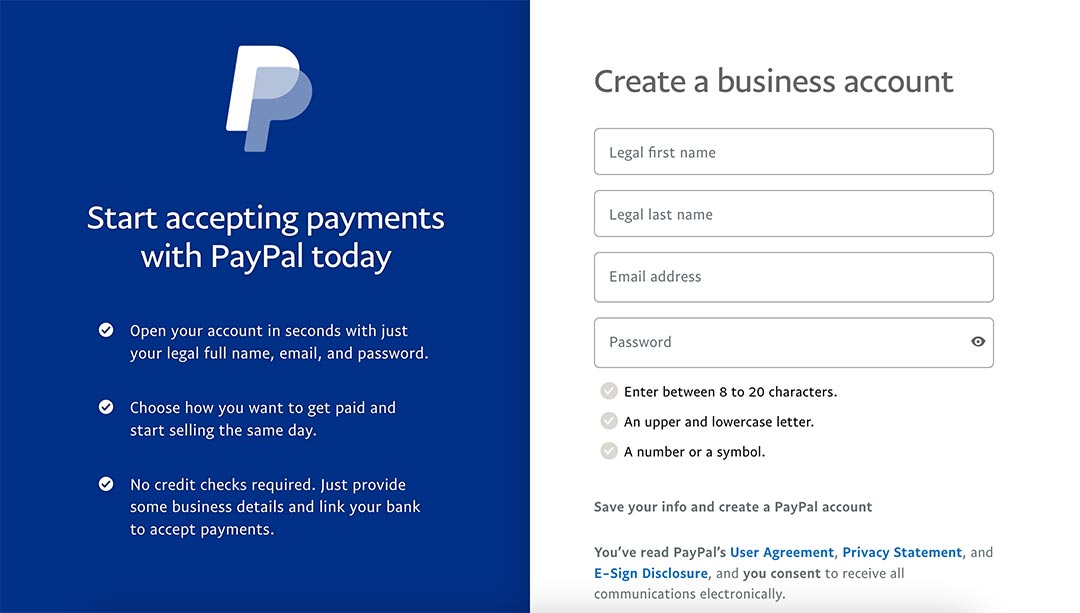 Enter your name, email, and password. Choose a strong password.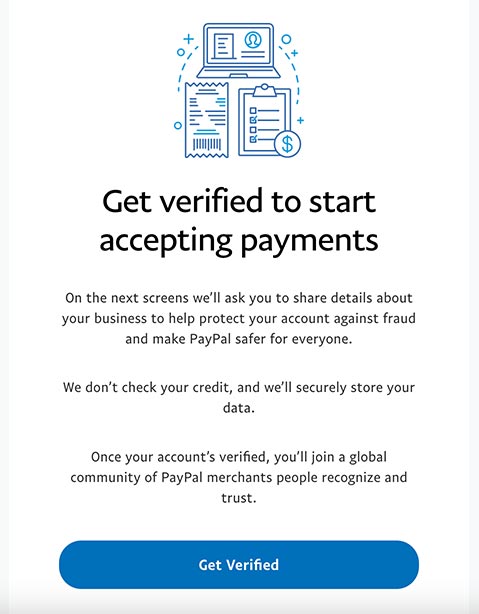 3. Enter the business type
Describe the business type. If you are a freelancer and have not registered a company, choose 'Sole proprietorship.'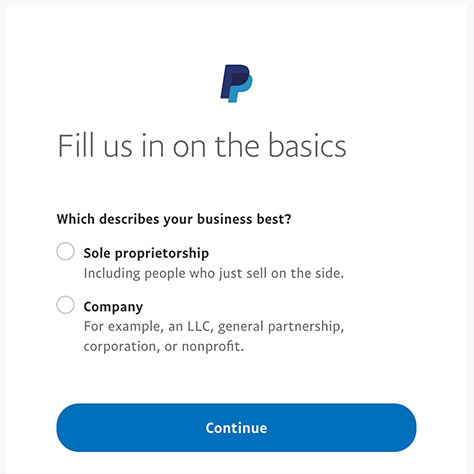 You may not need any legal documents to support a sole proprietorship. If you select any other type, like LLC, you must upload documents supporting it in the following steps.
4. Enter business information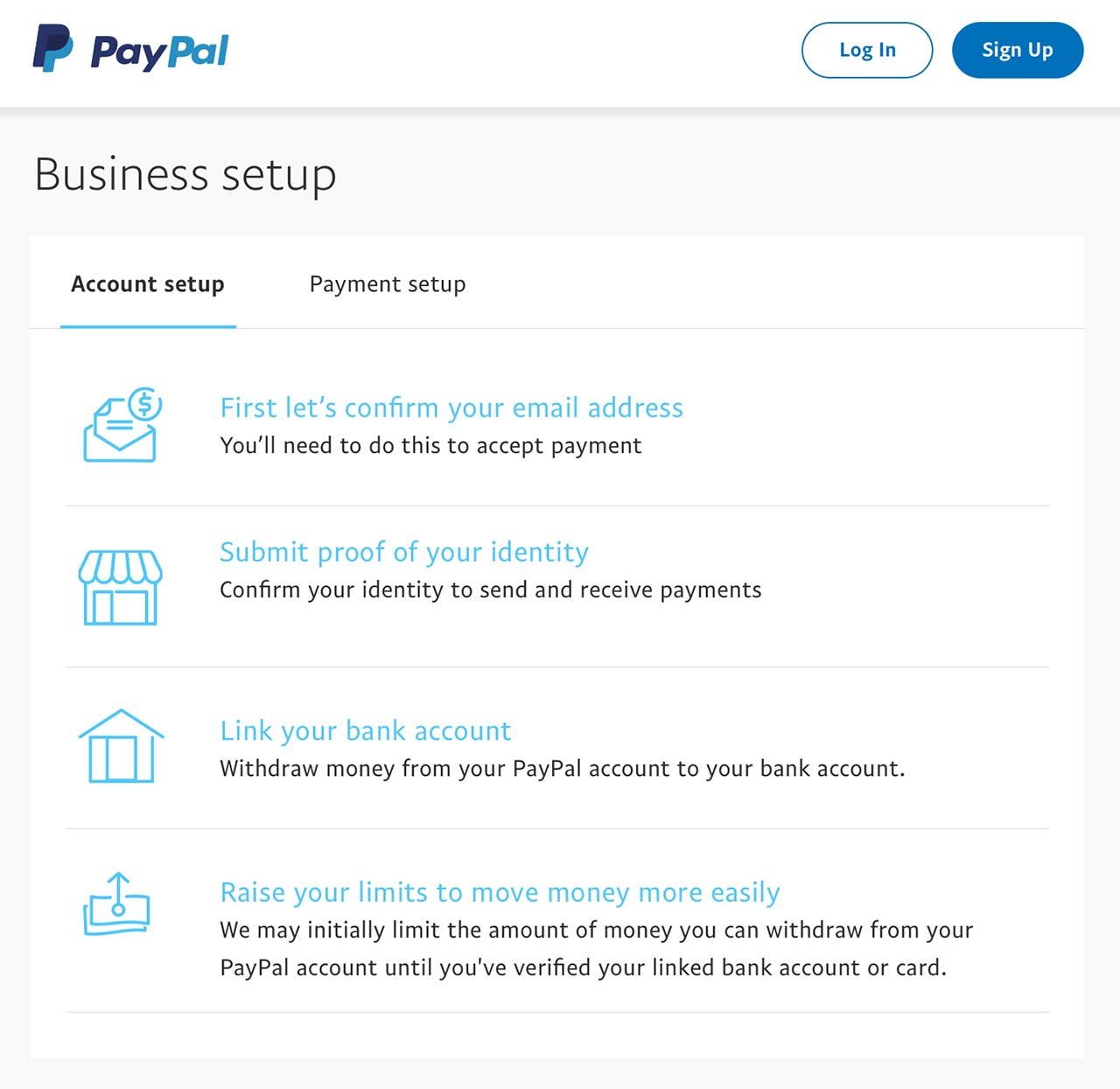 Enter your business name, phone number, and address. Remember to enter your legal business name as per your supporting registration document. If you are a freelancer doing business as a sole proprietorship, your name will be the business name. If you have a separate phone for your business, you may enter it here.
5. Confirm your email address
If creating a business account, use your official email. As a standard practice, you must verify your email address to confirm your PayPal account. This confirmation step is a must to receive payments.
6. Submit proof of identity
You must upload documents to prove your identity and the business. If you are in the US, you must provide your SSN. For business, the registration document should be uploaded as proof. The list of allowed documents varies based on the type of PayPal account and your country of residence.
7. Link your bank account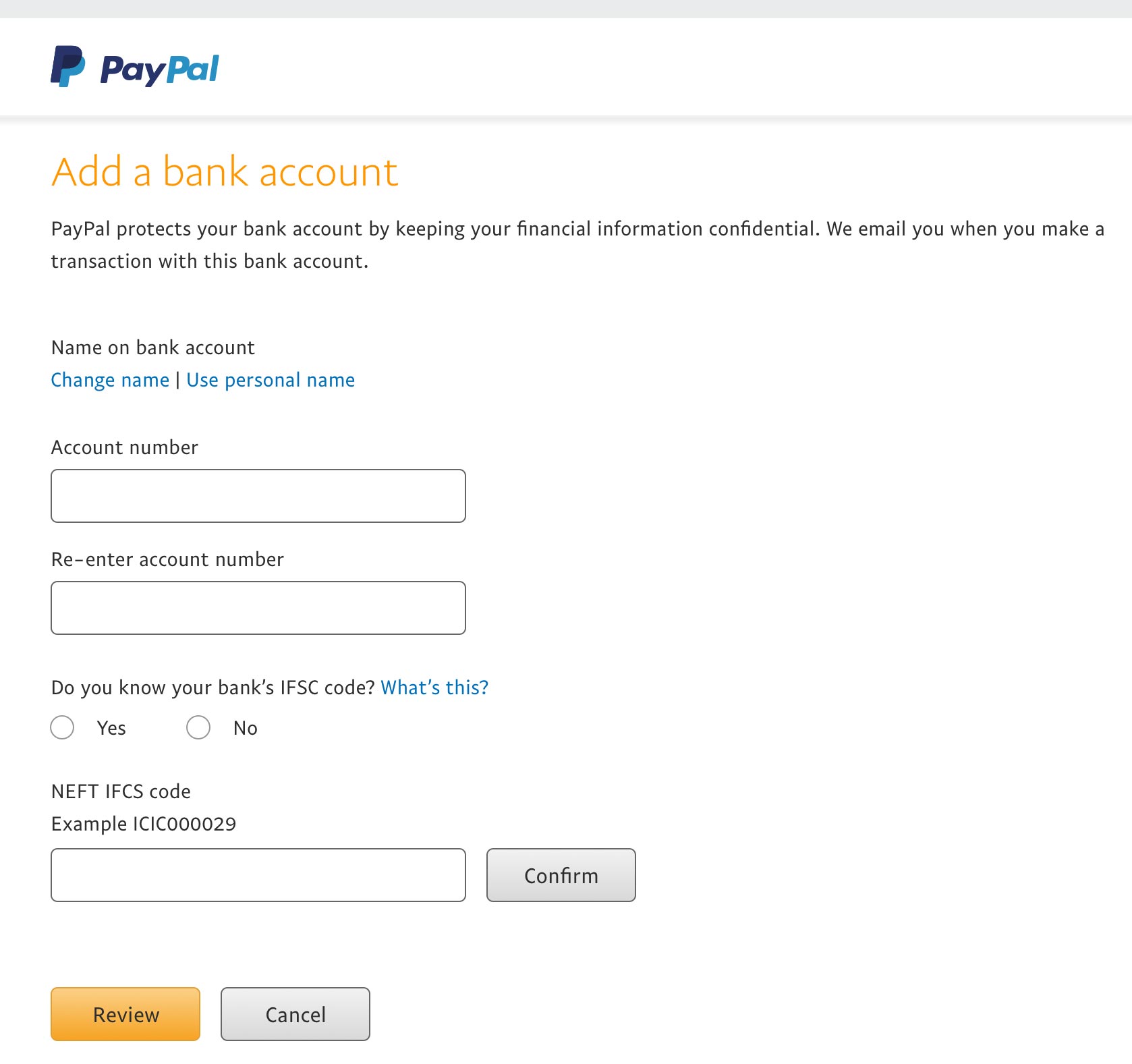 You need to add your bank account so that your PayPal account gets confirmed, and so you start accepting payments and eventually withdraw money to your bank.
Conclusion
I do not see PayPal as an option for a freelancer. It is a mandatory requirement if you are doing a global business. In many countries, clients need to trust other mechanisms. They ask for a PayPal account to pay you. You should voluntarily add your PayPal account in the payment terms section of your freelance contract. This will add credibility to your freelance business and give confidence to your client.
Disclaimer
These are money matters. It would be best if you were cautious. The content presented in this article is for informational purposes only. You'll need to consult with an independent professional before deciding. You should check PayPal's official website for more up-to-date information. As with all businesses, PayPal keeps tweaking its requisites, fees, terms, and conditions. We at Cazny strive to keep up with the changes and update our blog and documents. You should check PayPal for its official information.