Top 10 International Payment Gateway
Top 10 International Payment Gateway
An international payment gateway is an online service a payments processing company provides via its platform. It enables businesses to accept payments from their customers globally. The payment gateway intermediates between the merchant's website and the customer's financial institution. It is responsible for a seamless and secure money transfer from the customer to the merchant.
International payment gateways typically support different currencies as there will be cross-border transactions. It is also expected to support payment methods like credit cards, debit cards, digital wallets, mobile payments, and bank transfers. An essential part of the whole payment process is fault protection.
Top 10 international payment gateways
Stripe
PayPal
Authorize.Net
Opayo (SagePay)
Verifone (2Checkout)
checkout.com
Amazon Pay
Skrill
Worldpay
Adyen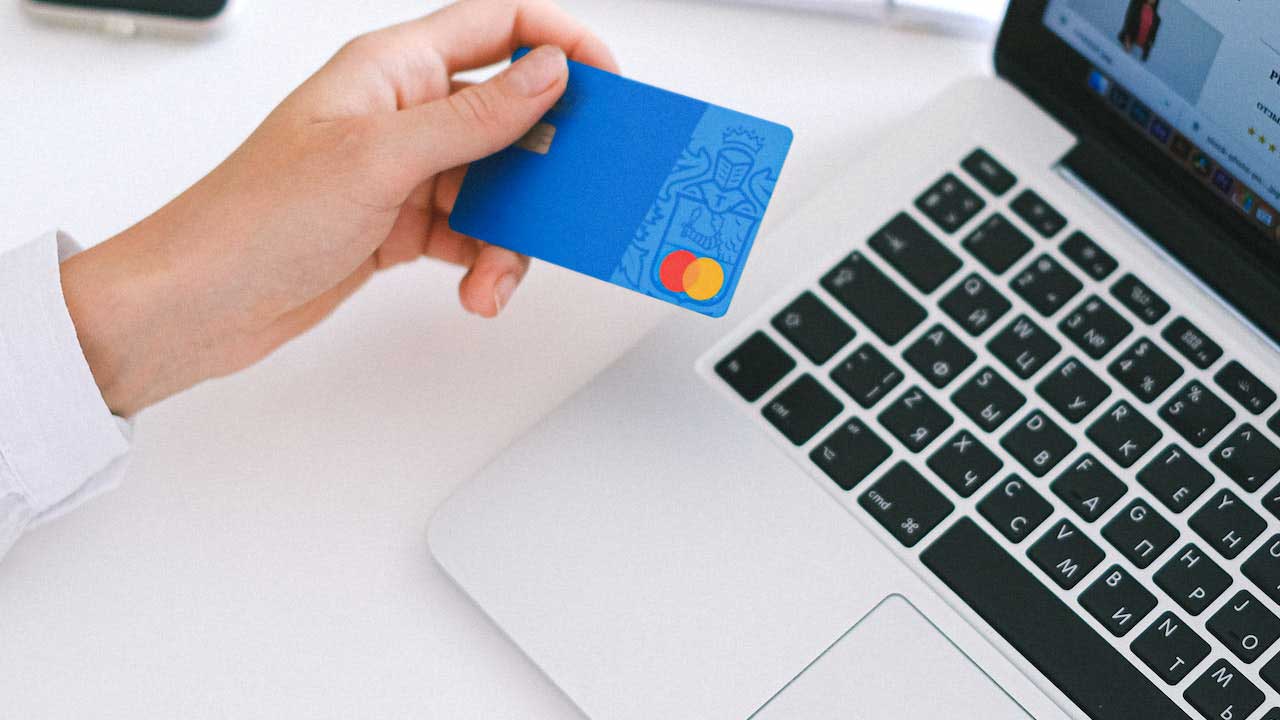 Stripe
Stripe is the leading payment processing infrastructure for the Internet. Its growth has multiplied in recent years. It is the go-to payment gateway for online e-commerce shops. It is present in over 40 countries and supports more than 135 currencies.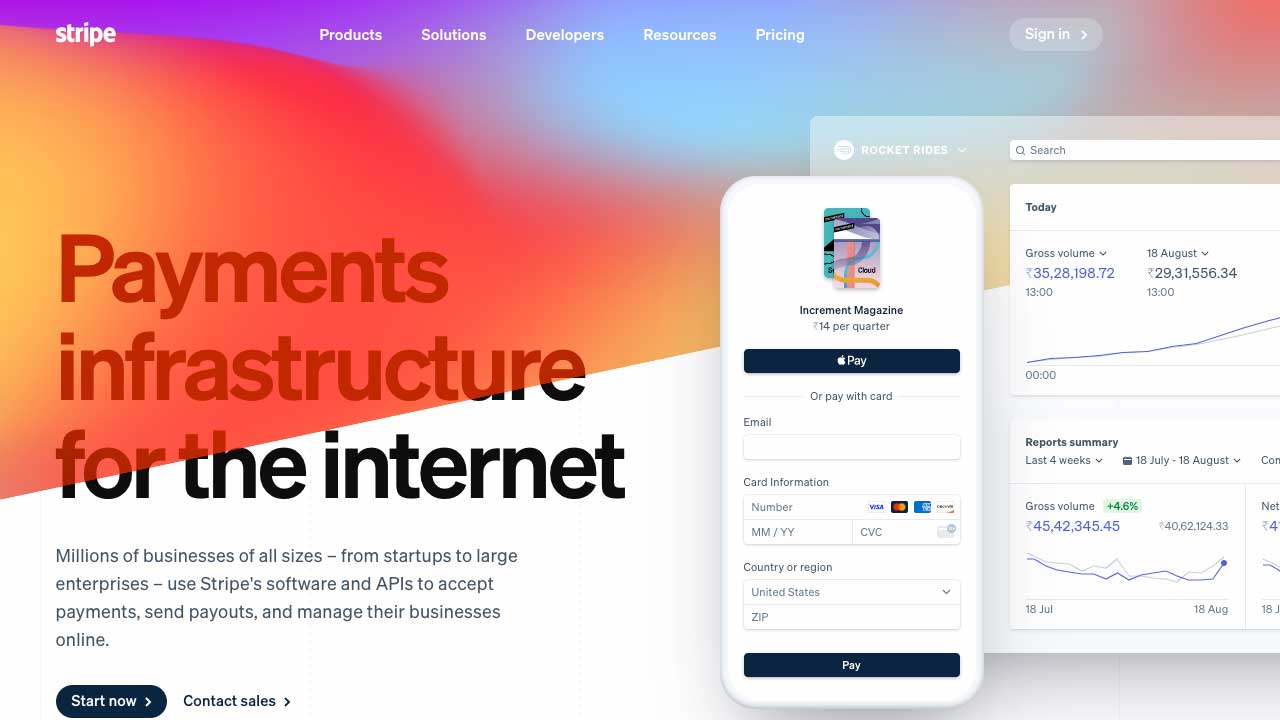 Key highlights
Detailed and extensive developer documentation.
Ease of integration.
Provides support for Apple Pay and Google Pay integration.
One of the lowest charging service providers.
PayPal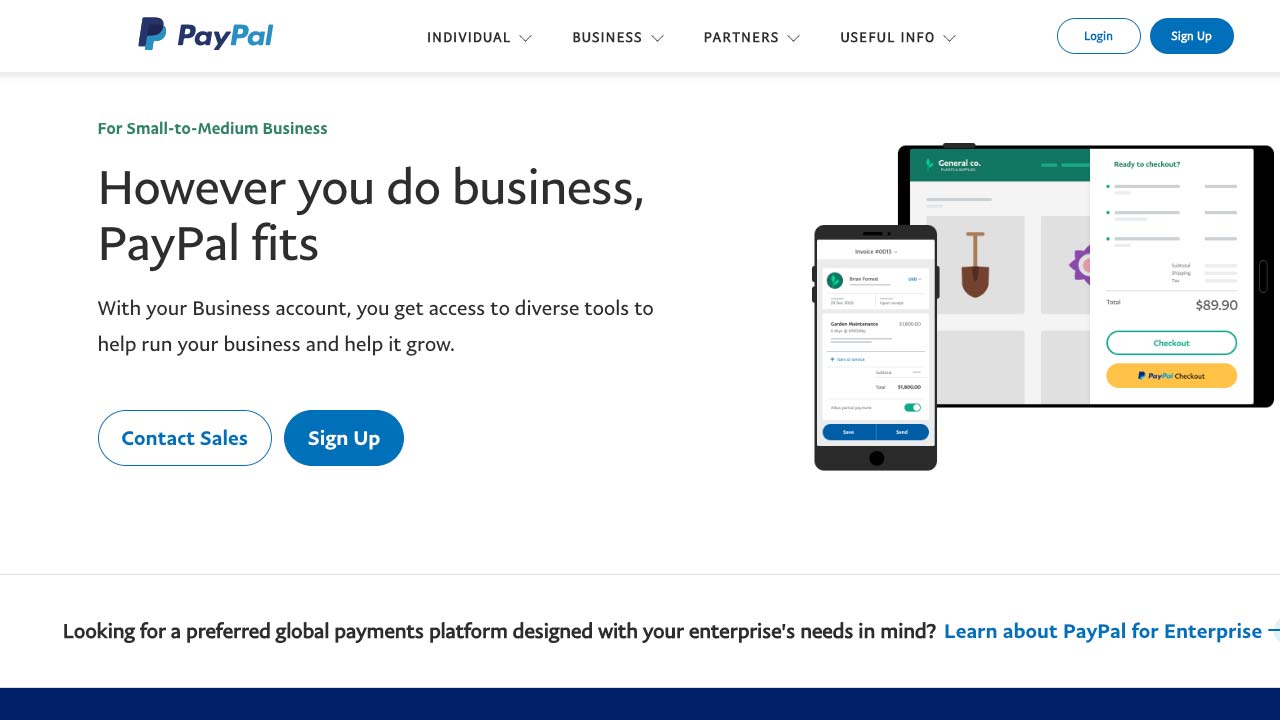 PayPal is the pioneer in payment gateway and eWallet services. PayPal requires no introduction. One of the most popular brands on the Internet for payment technology. It has a cult trustworthiness among a specific technology-following group of people.
Key highlights
Seamless checkout process.
Error-free: Customers and sellers can feel secure while spending money via PayPal.
As a seller, you inherit a certain trustworthiness of the brand.
The amount gets credited to your bank account quicker than other popular payment gateways.
authorize.net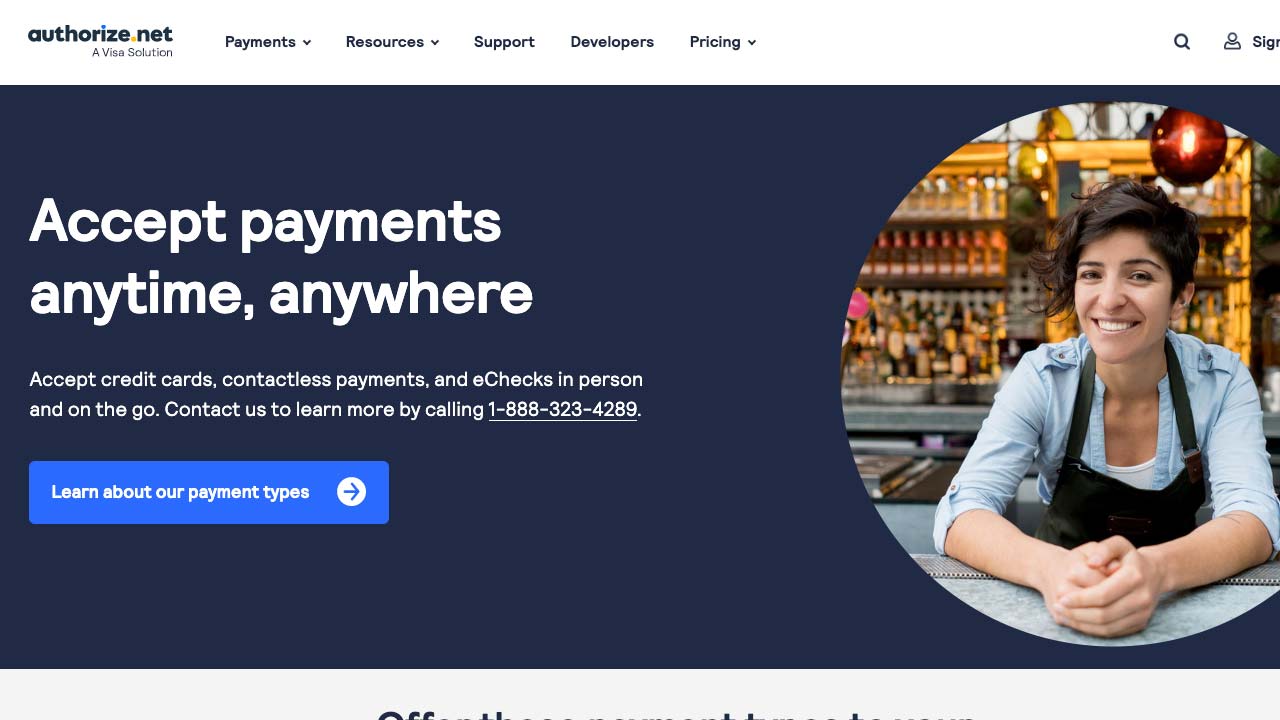 Authorize.net is one of the oldest and most popular payment gateway solutions. It provides one of the lowest service charges in the payment processing industry. It offers a range of services, right from POS to mobile payment gateway integration—one of the popular options for small-size e-commerce websites.
Key highlights
Provides better customization options for forms than its peers.
Supports e-checks.
Supports more credit cards than any popular payment gateways.
Provides phone support.
Opayo (SagePay)
Opayo is a UK-based payment gateway service provider. It was formerly known as SagePay. Popularity-wise, it is unarguably the number one payment gateway in the UK. It provides the usual payment services, from credit card processing to e-wallet, recurring payments, and multi-currency support.
Key highlights
Opayo has got one of the lowest transaction fees.
UK and Europe-based customer support. It is suitable for business in that region.
Does not charge additional fees for multi-currency support and conversion.
Provides unlimited payment page customization options.
Verifone (2Checkout)
Verifone, formerly 2Checkout, is an experienced payment gateway solutions provider. It provides a range of services, from credit card processing to accept PayPal payments. It is popular among digital goods sellers online. It has been in the business for 20 years and continues to provide innovative payment processing products and services.
Key highlights
It supports over 45 payment methods and is present in over 200 countries.
Provides payment gateway process product support in over 15 languages. It will help you with better locale implementation and attract local customers.
Provides good support for SAAS businesses with advanced subscription payment management tools.
checkout.com
checkout.com is an international payment gateway service provider supporting various payment methods. In comparison, it is a recent entrant to the list and has quickly become one of the best digital payments service providers for global businesses. It supports an unusually high number of payment methods compared to its peers.
Key highlights
It supports over 150 payment methods, a very high number for a payment gateway provider.
Provides good reporting and analytics for payments received. It will help in data-driven decision-making.
Faster settlement of payments received. It happens in as little as one day. It could be a critical point if you are a micro or one-person business.
Amazon Pay
Amazon Pay is a digital wallet and payment gateway service provider. It allows your customer to use their amazon account to make payments on your website. It was launched in 2007. Using their amazon account is a good feature for the customers as it avoids duplicate information entry in checkout. Its central proposition is the benefit of using Amazon's trust for your small business.
Key highlights
A short and quick one-click checkout process. Customers can reuse their saved information from their Amazon accounts, like name, address, and shipping information.
Amazon Prime is integrated, whose benefits you can pass on to your customers, like free shipping.
Amazon Alexa integration on your product and enable voice commands for an advanced checkout process.
Option to leverage their large customer base to market your products.
Skrill
Skrill is a virtual wallet and payment gateway provider. It provides quick checkout, digital wallet, rapid transfer, and shopping cart integration. It was formerly known as Moneybookers. Though it started in the UK, it has grown in popularity and is being used worldwide. Their popular offering is international payments, digital currency exchange, and prepaid card options.
Key highlights
They are popularly used in the online gaming industry.
Skrill's VIP program offers exclusive support and lower fees.
Lower fees than other popular digital wall providers.
WorldPay
WorldPay is a payment process and gateway provider. Fidelity National Information Services acquired it in 2019. WorldPay is an experienced payment gateway service provider. It has been in the payment processing industry for 30 years. In addition to payment gateway integration and processing, it provides value-added services like fraud detection, risk management, and payment analytics.
Key highlights
WorldPay is an experienced payment processing provider with an option for individually customized consulting services.
Presence in over 146 countries.
The lower service charge for high-volume transactions.
Adyen
Adyen is an international payment processing platform providing a wide range of payment-related products and services globally. It supports online, mobile, and in-store payments.
Key highlights
Adyen provides a wide variety of payment options. It offers more than 250 methods of payment.
It has a presence in over 200 countries, one of the broadest coverage.
Flexible in integration with your payment infrastructure systems.
Parameters to choose an international payment gateway
As a freelancer, you might be interested in a cost-effective service. It would be best to focus on the following essential parameters when choosing an international payment gateway.
Ease of integration: As a freelancer, you will be doing integration for yourself or your clients. You may not have an army of developers to back you up. The payment gateway provider should give good SDKs and a simple API.
Service charges: When you operate on a shoestring budget, it is essential to save every penny. When it comes to payment processing, even a 1% difference will make a significant change.
Payment options: For your online business to have a better conversion, your checkout process should have lesser friction. One key aspect is providing the maximum possible payment methods and coverage of more card providers.
Reputation: Your customers will speculate before sending their hard-earned money. They want a dependable channel, security, and trustworthiness. Your payment gateway provider's positive or negative reputation gets transferred to you. So choose an international payment gateway provider with a good reputation.
Settlement period: Once you get the money, the international payment gateway provider will take time to make it available to withdraw to your bank. Certain providers will have a minimum amount and a stipulated hold period. Ensure that it is a smaller duration.
Conclusion
Choosing an international payment gateway is a complicated process. It is not something that you can change quite often. Once selected, it will persist with you for a more extended period. It is the most critical part of your online business. Per my assessment, I have presented you with the top ten international payment gateway. Though I have given it as a ranked list, you can choose one among them without any fear. Sometimes a combination of the two may also be needed depending on your business and customers. Think of the five parameters I have listed and validate them against your preferences, then choose the payment gateway.
Best wishes!