How to Make an Invoice for Freelance Work
How to Make an Invoice for Freelance Work
An invoice is a commercial document containing the goods or services a seller delivers to a buyer. It will also include the financial details and the payment terms. A freelancer will submit an invoice to his client for his services.
For a general idea, we can compare an invoice to a receipt we get while shopping at a store. The invoice is a payment request, wherein the receipt is proof of payment.
Why is an invoice important for a freelancer?
An invoice document is an opportunity for a freelancer in various aspects. A freelancer strives to improve his value and position himself as a professional. It will help the freelancer to increase the billing rate.
The freelancer should look for opportunities to improve his branding throughout the freelance business cycle. One such instance is the process of sending the invoice. It will help the freelancer in the following aspects.
Branding and positioning
Journaling and documentation
Legal protection
Formal reminder for payments to clients
Tracking payment status
The legislative requirement for tax submission
Always get paid through invoices
Disputes between freelancers and clients are common these days. A well-written freelance contract and an invoice can help protect a freelancer in such situations.
An invoice can be a legal document to resolve a dispute between the freelancer and the client. It can stand to protect the interests of the freelancer.
Sending invoices to clients makes you look more professional. It also helps you keep a better record of your payments. Journaling is one of the primary intents of invoices.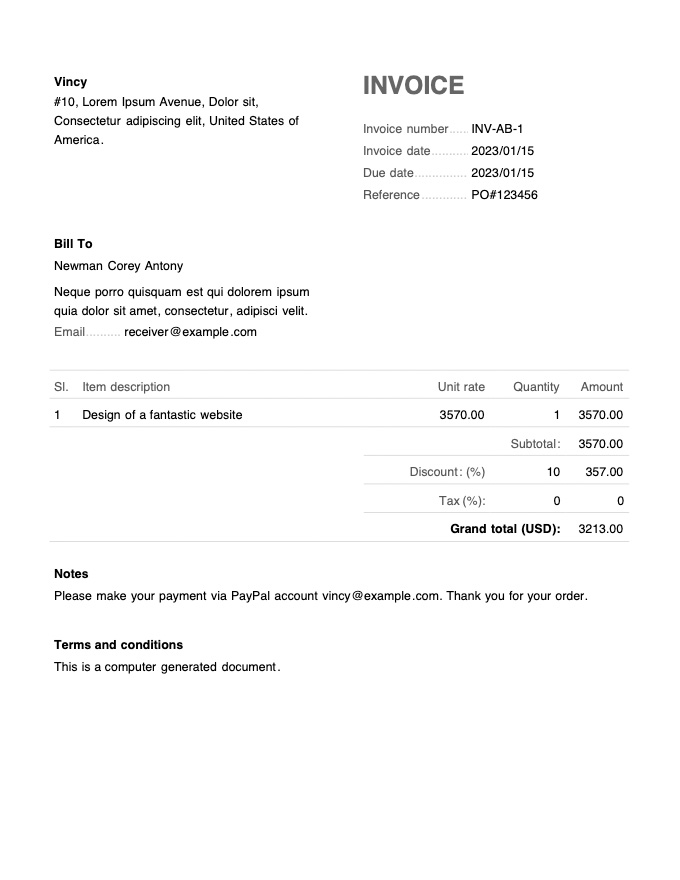 How to create an invoice?
You can create invoices easily. If you use the help of technology, it becomes even more accessible. Following are the ways to create invoices.
Invoice generator software
Public online invoice tools
Cloud-based document editors
Offline document templates
Invoice generator software
There is numerous cloud-based and desktop-based invoice software available. Exclusive invoice generator software is popular nowadays. Every finance, ERP, production, and inventory software has invoice management as a functionality. Cloud-based SAAS software is the trend now, and they have free options too.
Cazny provides a simple and easy-to-use free invoice generator. You can signup free for Cazny and use it.
Public online invoice tools
This is a separate category other than the above. I wanted to highlight it for you, so I have kept a separate section. There are single-page WYSIWYG invoice editors available online. Many freelance, finance or project management-related websites provide this as a free tool.
You can drop in, input the values, generate the invoice, download the PDF and go. There is no login, data entry, or anything. The only negative is that the invoice will not be saved in the cloud if you ever want it to be.
Cloud-based document editors
If you prefer classic office software, Google Docs and MS Word are the best options. They all have launched a cloud version. You can download or create a customized invoice template with them and use it whenever you want to send an invoice. You can also store the created invoices in the cloud itself securely.
Offline document templates
Though not preferable, this is the method used by many freelancers. Either download or create an invoice document, mainly in MS Word as a DOC. Store the invoice document in the freelancer's email account. Whenever needed, download the same, change the contents and send it to the client. This is very primitive and needless to list the issues.
Ten sections to include in your freelance invoice
The government's income tax department provides rules and recommendations for formulating an invoice. You should check with your respective Government entity to ensure there is anything in place for your region.
A freelancer works with global clients. There are conventions followed across the globe for an invoice. You should follow it when you prepare an invoice. I have presented them below.
Business name, logo, and contact information
Unique invoice number
Issue date of invoice
The due date for payment
Bill to client's name and contact information
Description and cost of services
Past due
Amount totals, discounts and taxes
Preferred method of payment
Terms and conditions
I have ordered these sections based on popular invoice formats. Yet, their position might be different in various templates. So the location of these sections in an invoice document is unimportant.
1. Business name, logo, and contact information
Your business name should appear at the top of your invoice. As a freelancer, most of the time, your name may be the business too. If that is the case, present your name prominently.
If you use a logo, it should appear at the top-left side of the invoice. That is the hotspot and an excellent opportunity to cement your branding. If you do not have a logo, create one today. So many free logo creators are available; you can get one in minutes. Branding is an essential part of freelance business development.
The address and contact information of the sender should appear right after the name. When you submit as much contact information, it helps to convince a global client. Have a dedicated contact phone number for your freelance business and furnish it in the invoice.
2. Unique invoice number
Assigning your invoice a unique number is a must. It not only helps you to keep better track of your invoices but also helps your clients manage their invoices too. The invoice number should be a running serial number. Combining your business initials with a 4-digit number can be a good invoice number.
Every time you want to send a new invoice, increment the number by 1. Remember not to skip any numbers in between. For this particular feature, using invoicing software will be handy.
3. Issue date of invoice
It is the date on which you issue the invoice. Adding the issue date is a standard commercial and legal document practice. If you are dealing with global clients, remember to present an understandable date format according to their locale.
No! It's not ok to pre-date an invoice.
Do not indulge or cooperate in such practices. A Proforma invoice is different; do not confuse that with pre-dating an invoice.
4. The due date for payment
All invoices have a due date. It would be best to mention the due dates next to the invoice number. Getting quick payments is a common problem for a freelancer. The main reason is not discussing it at the contract stage itself.
A freelancer should discuss the payment terms with the client at the contract stage and agree on a due date policy. It must be documented in the freelance contract.
Following are the general invoice due date practices. You should follow the one that you agree with your client.
Net 15 - Due in 15 days from the date of invoice.
Net 30 - Due in 30 days from the date of invoice.
Net 45 - Due in 45 days from the date of invoice.
Net 60 - Due in 60 days from the date of invoice.
Due on receipt - Due when your client receives the invoice.
5. Bill to client's name and contact information
The invoice should also contain the receiver's name and address, as the freelance contract states. It would be best if you mentioned the client's official name. Please do not make any mistakes in the client's name; it is critical.
You may even ask for the client's name and address to give details for invoicing. Because sometimes the contract and invoice may be billed in a different entity name. This section should appear after the due date and invoice number.
6. Description and cost of services
The essential section of an invoice is the bill of materials list. It is a tabular section with a short description, number of units, rates, and amounts of individual service(s) the freelancer provided to the client.
If your invoice demands advance payment, mention that in this section. Depending on the nature of the work, type the summary description so the client can understand the job for which the bill is done. Give detailed breakups wherever possible.
7. Past due
If any previous invoices are due, you should include them in this section. It reminds the client of payment. It would help to have an explicit callout so the client would not get confused about the current and past due.
You should take it up with the client and get his concurrence. As a freelancer, you do not want to have any pending dues. Always! It would be best if you made it a practice to track, insist and get the payment then and then.
Funny how the new things are the old things. - Rudyard Kipling
Add the old dues with the current due, and present the total as one whole number.
8. Amount totals, discounts and taxes
This section appears right after the bill of material tabular section. It presents the total payable amount or sum of all services plus the due amount with a tax breakdown. If there are any discounts provided, you should mention them here.
If there are no discounts, do not include this part as a line item. At the same time, if you do not deduct taxes, have it as a line item with zero amount against it.
This is to call out that you are not deducting taxes explicitly, and the client is responsible for taking care within his limits.
9. Preferred method of payment
Traditionally this section used to contain the sender's bank details. You can include your online transaction details, for example, PayPal or an online payment link. It is a good practice to mention more than one payment method.
As a freelancer, having multiple options to receive payments is better. It will give a choice for your clients. In particular, you should have various options if you have to receive cross-border payments. When you have numerous options, clearly call out the preferred transfer mode.
10. Terms and conditions
The final section should contain any terms or conditions related to the work or the invoice. For example, if there are any late payment fees, then mention them in this section as a freelancer charging late payment fees may not be desirable, though.
Authority signature of seal (optional)
You can sign your invoice or attest with a stamp. Signing an invoice is not a mandatory requirement. Sign in the sense, a digital signature, an image of your unofficial signature, a seal for your company brand. This is not a mandatory requirement and is not generally used these days. Those were prevalent in use in paper-based invoices.
Sending invoices for advance payment
As a freelancer, you should also send invoices for advance payment. Be it advance, interim, milestone or final payment, an invoice should be sent for all payment claims from the client. It would be best to mention the advance charges in the individual services section. Mention related terms and conditions in the final part of the invoice.
When do you send an invoice?
Immediately after completing the project, a milestone, or a phase, send an invoice to the client. Never hesitate to send an invoice and ask for payment. If a project is a long duration, you should send an invoice on a weekly or monthly basis.
Please do not make it a surprise event. The client should be well aware that you will send an invoice.
You should agree on when to send the invoice during the freelance contract stage. For example, is sending an invoice based on duration or milestone completion? Before you send the invoice, communicate and inform the client via your established channel. Then ask for his approval and send the invoice document after his go-ahead.
How to send an invoice?
You should send invoices via email as it helps to keep track and makes you look more professional. Some freelancers also send invoices via WhatsApp or social media is not recommended.
Conclusion
Businesses always use invoices to request payment from their clients. As a freelancer, you must send invoices to your clients. Not only do they make you look more professional, but they also work as a payment reminder for your client. Use the invoice document to cement your professionalism and branding.
Best wishes!