How to Write a Freelance Resume with Sample
How to Write a Freelance Resume with Sample
As a freelancer, you must use all the avenues to market and build a brand for yourselves. A resume is an excellent opportunity to cement your branding. As a freelancer, you might be involved in doing multiple things. As a freelancer, you might do many activities daily, like providing services, selling products, writing blogs, answering questions in forums, and participating in online communities. You must present all these coherently to a prospective client.
What best way can you find than the resume? Some work you do is straightforward and does not require an introduction, but some require sufficient details and explanation for a client to understand. You prepare a resume offline, proofread, and then market it.
Does a freelancer need a resume?
There are questions and doubts among freelancers. Do we need a resume? If you do not have a freelance resume, that will not do any harm, but you are missing an opportunity to position yourself.
"Your resume is a picture of yourself. It tells the world what you look like on paper - your education, your accomplishments, your strengths - and it should be a masterpiece painted with words that sell you to potential employers." - Harvey Mackay
You should be able to present yourself with a punch and make a positive impact on paper. If not, then there is something missing from you. When you sit and write, that is a moment of self-introspection. It will open up a window. You will get a chance to find out your weaknesses so that you can work on them.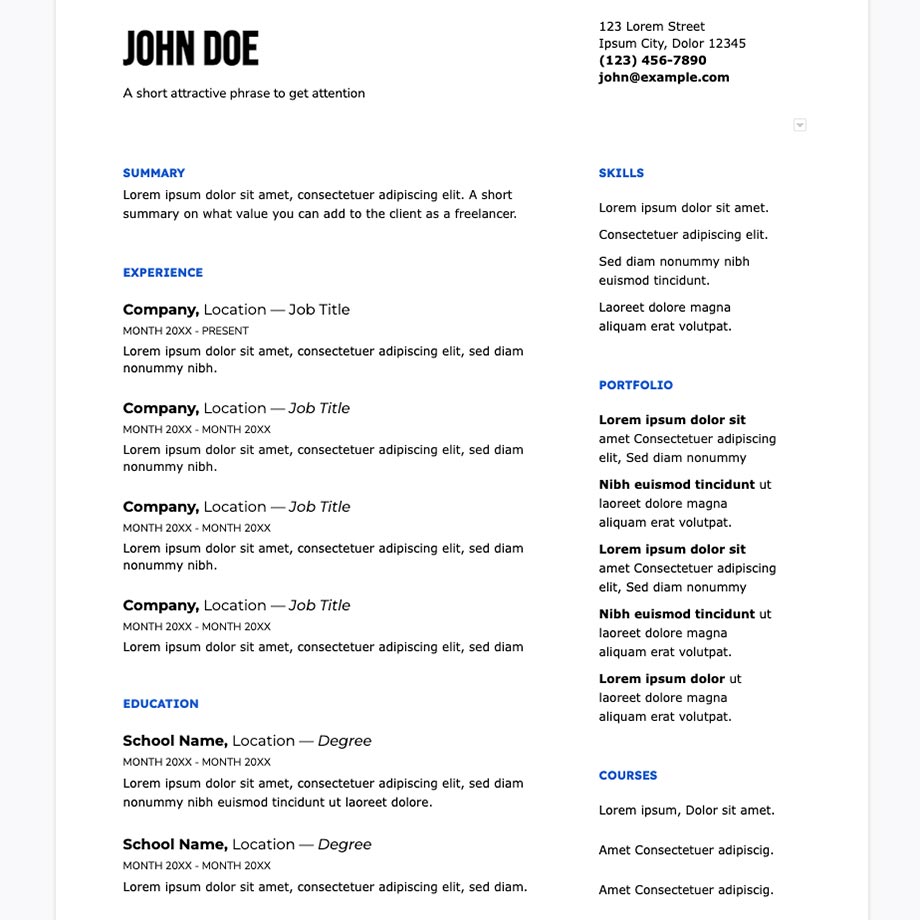 A resume can market you when you are sleeping and make an impact. You should have a portfolio, website, or blog. A resume should be a page on your website, and that is a place using which you can get more freelance contracts signed.
Key highlights
Freelance summary and objective.
Give detailed work experience.
Present your educational qualifications.
Add job-matching skills (In freelance, no one cares about if you know skiing or not).
Include freelance portfolio.
All possible contact information.
Keep it short and straightforward.
Have a cover letter ready.
1. Summary and objective
A summary gives the essential details about what you can do. All in one paragraph. The summary should discuss your most prestigious skills, something you feel proud of. Also, if you send the resume to a targeted client, customize this space to get their attention.
The client is not interested in who you are but in what you can do for him.
End that paragraph with a long-term objective of what you want to be. Please do not keep it boring. Make it your thought and keep it honest. Do not copy this from the Internet. The prospective client is not going to judge you by your objective. It's a space where you can prove your honesty.
2. Work experience
This is a standard section where you present your freelance work experience. Ensure that you do not go overboard and infringe on copyrights. You might have worked with great brands, but get their concurrent before adding it to your resume. If permission is not given, put it roundabout to invoke curiosity in your prospect. Add the latest experience first and present it in a timeline order. You can also include a timeline infographic to make it look attractive. If you work on multiple areas, for example, PHP, Python, Java, etc., you may add a colorful pie chart denoting the percentage of work done in each technology area.
This pie chart is an example of how to make your resume stand distinct and attract your audience. I was hiring a freelance writer to write articles for this blog. I got a resume with a cartoon illustration. A small one indeed, but it was exciting and eye-catching. Among all the resumes, I received, it was different. I ended up recruiting that freelancer.
3. Educational qualifications
Though this section is formal, it is required for the completeness of the resume. As a freelance resume, it is not essential but will add to your credibility. If you got good educational credentials, add them to your advantage. If you are a freelancer by experience, you can ignore this section and not worry about it.
Apart from formal education, you might have done certifications online. You may include them but add explicit callouts.
4. How to write your skills on a freelancer resume?
Present all your skills. This part, again, should be tailored according to your prospect. List all your skills in order of importance. Break this down into sub-headings so that it will not look daunting. Do not add undeniable skills, such as MS Office. Yes, I have seen such resumes, which will upset your mood irrevocably. So add skills that will add value to your proposition.
"Size is not a synonym of significance." - Don Yaeger
A long list of skills is not necessarily valuable. Even a couple of excellent skill is sufficient to get the job done. So choose wisely and list it in bulleted points.
Following is a sample skill of a freelance graphic designer.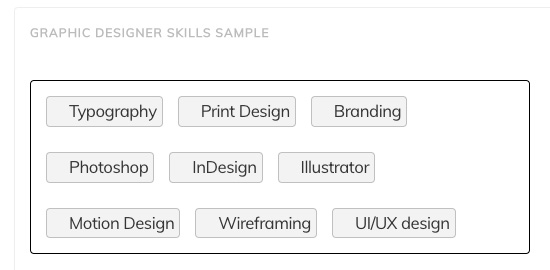 5. Freelance portfolio
You cannot have a full-fledged graphical portfolio gallery in the resume. Choose the top five best of your work and list them in the portfolio section. Giving live references wherever possible is best as adding contacts for reference checks. Your work is a testimonial to your skill, so list the works that match your skill set.
When you add a work reference,
Describe your client's problem and how you solved it. Then the result and how your client benefitted from your work.
For example, the website loaded in 2000 milliseconds, and you reduced the loading speed to just 500 milliseconds. This resulted in 2X conversion and increased their profit by $ 500K.
Ensure the following on your work in the portfolio,
It should be live and working.
Give proof that it is your work.
Give contact reference to verify.
It would be best if you did not have a dispute with that client.
The client should have approved to use of their brand.
6. Contact information
Needless to say that you need to include your contact information. Give one phone number and ensure you keep the line open and attend to it at all possible times. Though physical address may not be used, it is a good practice. This will give an avenue for your client to do background verification.
Remember to include a neat email. Note the word "neat email." I have seen emails with cryptic letters. It is not a game portal to have an ID like that. Your email should be closer to your name as possible. As a freelancer, email is still the official mode of communication. Check your email daily.
Slack, Twitter handle, LinkedIn profiles, StackOverflow users, and any of your community profile pages will be an added plus. If you are giving multiple contact options, make the email prominent.
7. Please keep it simple
We live in the era of the shorts (a few seconds of video snips). Our attention span is getting shorter day by day. People do not engage with long-form content. Making them sit and read your resume is a difficult task. Keeping it engaging is a Herculean task. So, please keep it simple, short, and straightforward.
"Simplicity is the ultimate sophistication." - Leonardo da Vinci
You can make it colorful, add infographics, or do anything to entertain your audience. But it has to be as short as possible. If you can limit your resume to one or a maximum of two pages, then that would be great. Anything more than that will not serve its purpose.
8. Cover letter
A cover letter is an essential prelude to your resume. As a freelancer, you may not send your resume in snail mail. But you may be sending it by email as an attachment. The body of the email is your cover letter. Irrespective of the mode of communication, a cover letter should land first to position yourself professionally.
This is where you can show your enthusiasm towards the job and highlight how you will add value to the client. It will also help you differentiate yourself from other freelancers and give you an edge. You can have a ready template sample that you can customize and send according to the need.
Freelance resume template sample word
You can download and use this freelancer resume template. It is in MS Word document format. Go through this article and then customize this sample based on that understanding. Please feel free to add more sections to it and try to keep it within one page or a maximum of two pages.
Conclusion
As a freelancer, the objective of having a resume is to establish trust with your prospective client. It is a marketing tool to position yourself and improve your brand value. Keep it as short as possible. Then have multiple versions of the resume to use for different needs. Customize the skills and portfolio to target the audience and send it attached with a cover letter. Your resume's design should reflect your character and style.
Best wishes!