What are Facebook Ads & How to Use it to Grow Your Business?
What are Facebook Ads & How to Use it to Grow Your Business?
Facebook is the first social media platform most of us have used. Some say it's dead. However, stats depict a different story. According to Statista, Facebook reported 2.9 billion monthly active users in the third quarter of 2022, almost 40 percent of the global population.
Despite emerging several new players in the social media space, Facebook has consistently been one of the top choices for business owners to advertise their businesses to date. But WHY? Why I'm entitling Facebook as the 'best social-web platform to advertise' even today when choices are limitless?
Why should you advertise on Facebook in this modern era?
The biggest x-factor in Facebook is its huge-wide-audience database.
You would have kept your personal information private from any social media platform. Instagram asks you for your name and birthday, and that's it. Almost the same is true for Twitter.
However, on the contrary, Facebook provides explicit space for its users to mention their company, school, college, hobbies, political views, relationship status, life events, check-ins, and family members in their profiles.
Additionally, Facebook caters to a diverse demographic, with users from all age groups represented on the platform. These factors contribute to its highly targeted audience, which makes advertising on Facebook highly effective. Freelancers use Facebook Ads to get freelance graphic design jobs.
What are Facebook Ads?
Facebook Ads is a Pay-Per-Click (PPC) advertising system that allows businesses to create, run and manage their ads on the Facebook platform. In terms of audience, Facebook ads can help you reach nearly 3 billion people worldwide, which is very high compared to other social-web platforms.
Facebook ads come in several formats, the most common of which are images, video, and carousel. You can target the ads to specific audiences based on the following:
demographics
interests
behaviors
location
other information.
It allows businesses to reach the right people at the right time, increasing the chances of a successful campaign.
What is Facebook (Meta) Ads Manager?
Facebook also provides a Facebook Ads Manager (now Meta Ads Manager) tool, which lets you easily create and manage your ads and track and manage their performance. With the help of this tool, businesses can not only work their target audience but also see which ads are performing well and which ones need to be tweaked or adjusted.
Additionally, it allows businesses to manage their advertising on other Meta-owned platforms such as Instagram and Meta Audience Network (apps that Meta doesn't own).
Who should advertise on Facebook?
Facebook has a huge audience you can target to get great results. But let's face it — it might not work for all businesses. However, some business models are highly suitable for Facebook audiences.
Businesses seeking brand awareness
Facebook is naturally best for businesses whose primary ad objective is spreading awareness about their brands. If you want people to recognize your business rather than seek conversions, then Facebook ads are the right choice.
For instance, if your business has launched new products or has started offering new services, the best way to showcase your brand-new offerings is through Facebook ads.
Businesses with small conversions
People use Facebook in their free time. They come here to chat with their friends and watch cute cat videos. Pitching your product to sell and getting great results could be challenging when people are in such a mood.
Therefore, expecting sales directly through Facebook might not be a good idea for most businesses. Instead, using Facebook ads to get signups, newsletter subscriptions, or something you want people to try out is better. And connect to them for the long term and pitch them later on.
Freelance businesses
As a freelancer, Facebook video ads are the most effective way to get traffic to your website or app and immediately sell your products and services. Most freelancers use Facebook ads to sell courses and e-books and get quality clients. Using Facebook Ads has increased the possibility of getting a freelance contract signed.
Ad retargeting
Someone lands on a website halfway through buying something, eventually decides not to purchase, and returns. After this, they log into Facebook. Now the website which they visit will be shown in ads. It is called Ad Retargeting. And Facebook is the most suitable and widely used platform for retargeting.
Build followers
As a business, running ads is a must to increase your follower count on Facebook. Organizing free giveaways helps you get more followers through ads.
How do Facebook ads work?
Facebook ads are paid posts businesses use to promote their products and services to a larger audience. However, you can only use Facebook pages; their posts can appear as ads. There is no way to boost personal profiles or individual posts on Facebook.
To start advertising on Facebook, you want to select the most suitable ad type for your business goal. It can be a video, images, carousel (multiple images), your Facebook page, or a link to your landing page. It is all up to you.
While creating your ad, Facebook will ask you to specify your target audience based on demographics, location, personal interests, activities, and other profile information.
Once the ad is ready, you set a budget and a bid for your ad. You can place bids on either a 'per thousand impressions basis or a 'per click basis.
When you launch your ad campaign, people can see it on Facebook and other Meta Audience Network platforms.
Types of Facebook ads
1. Image Ads
2. Video Ads
3. Carousel Ads
These ads let you showcase up to 10 images and videos, each having its headline, description, and link.
4. Instant Experience or Canvas Ads
These mobile-only interactive ads are also carousel ads that let users deeply engage with your offerings by allowing them to shift the screen in different directions and zoom in and out.
5. Collection Ads
Another carousel ad lets users flick through the product lineup, allowing them to purchase directly from the ad. More suitable for large businesses.
6. Lead Ads
As the name suggests, these mobile-only ads are best suited for businesses wanting to collect quick information about their target customers. Most suited for newsletter subscriptions, signup for trials, etc.
7. Slideshow Ads
It is one of the closest alternatives to video ads. Slideshow ads can consist of 3 to 10 images or be a whole video.
8. Story Ads
Story ads can be impactful with internet users' constantly decreasing attention spans. These can be images, videos, or even carousels.
9. Messenger Ads
These ads are shown to people during personal chats. For local businesses, these ads can work like a charm.
To get started with Facebook ads, make sure you have these three things ready:
A Facebook page of your business.
A Facebook business account (different from your account)
Your campaign strategy and budget plan.
How to create a Facebook ad campaign?
Head over to the Facebook ads manager.
Select an ad account from the dropdown on top.
Click over CREATE button, and we are ready to move forward.
1. Choose your advertising objective
Facebook lets you select one of the six simplified objectives for your ad campaign.
Awareness
Traffic
Engagement
Leads
App Promotion
Sales
Select one that aligns most with your campaign objective, and click Continue.
2. Provide basic information about the campaign
Assign a unique name to your campaign.
Choose one of the Special ad categories if it applies.
Choose buying type.
Edit campaign objective (if you realize you selected the incorrect one)
Set a campaign spending limit (if you want to).
Turn on A/B Testing to start running an experiment with your ads.
Remember to turn on the 'advantage campaign budget' if you have multiple ad sets.
Click Next.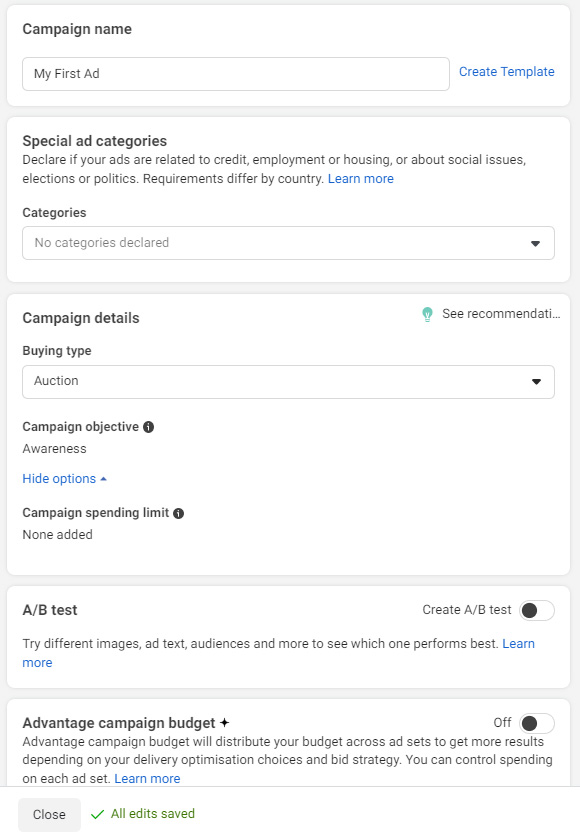 3. Create an Ad Set
You may have multiple ads in your campaign. Some of them may share targeting criteria, budgets, and schedules. Ad sets help you organize similar ads within an ad campaign.
Choose a unique 'ad set name'.
Choose your business's Facebook page to run ads.
Enable the dynamic creative option to let the Facebook machine learning algorithm decide your ad's best headline, image, and video. After running it to users, you will upload multiple ad versions, and the algorithm will determine the best.
Select the most suitable option from the 'optimization for ad delivery' dropdown.
Bid control- set the maximum amount you will pay per click or per thousand impressions to ensure your budget is not exceeded.
4. Set budget and schedule
Set a budget type, ' daily budget,' if you want to spend money daily. Otherwise, choose 'lifetime budget' if you schedule your budget for multiple days.
Set your budget amount.
Set a start date and time when you want Facebook to start running your ad and set an end time to stop the campaign.
If you selected lifetime budget, click on the 'show more options' button, and schedule any hour of the week to run your ad if you want Facebook to run your ads only at specific times (e.g., from 5 pm to 9 pm). This option is only available for a lifetime budget.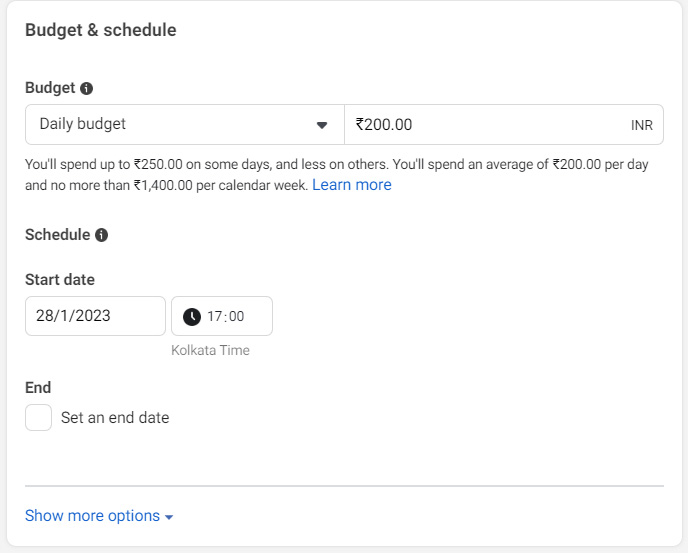 5. Set target audience
Select the target location and whom to target in the area. You can also exclude any site.
Select the target age group.
Select the target gender.
Set detailed targeting based on demographics, interests, or behaviors.
You can also specify the targeted language(s).
Click 'Save this audience.'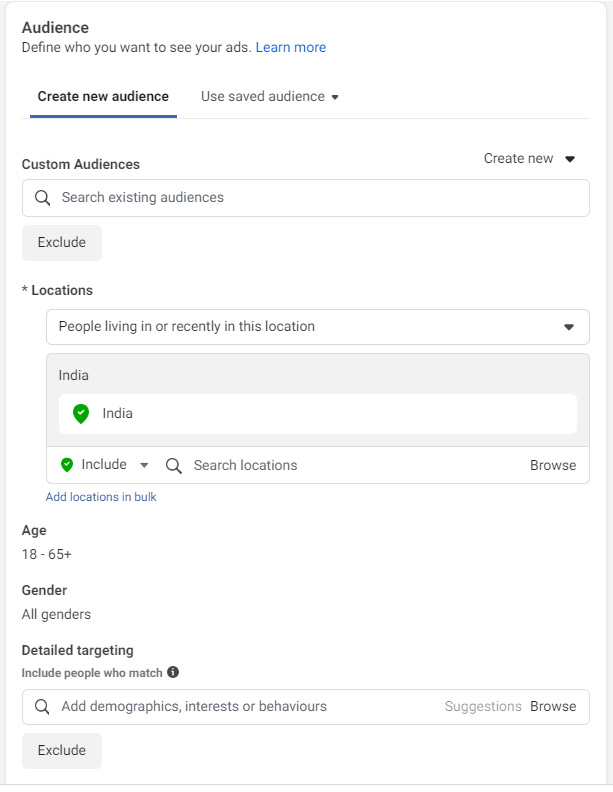 6. Decide where to place your ad
You should choose one of the following two options-
Advantage+ placements (Recommended), and
Manual placements
If you want to let Facebook decide where to display your ads, choose 'Advantage+ placements.' It will distribute your ads across Facebook, Instagram, Messenger, and other Facebook-partnered platforms.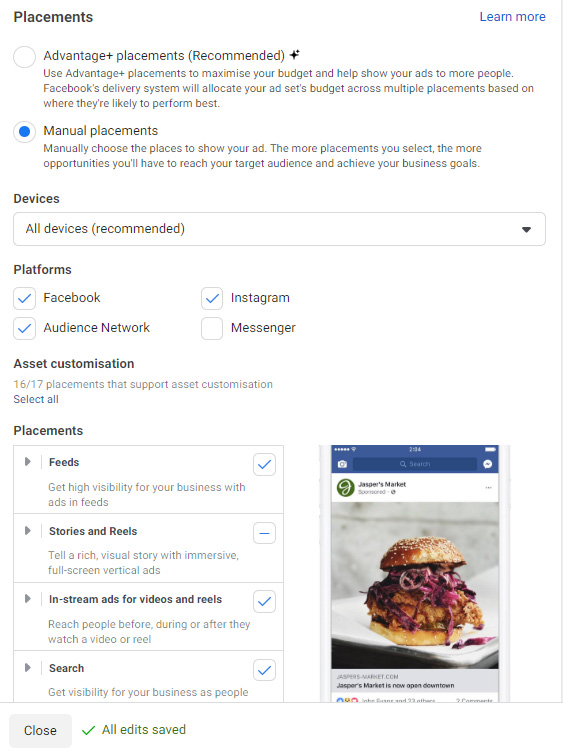 To decide where to run your ads manually, choose 'Manual placements.' Then select a device type, check platform(s), and determine placement locations to run your ads.
Click 'show more options."
Brand Safety
You can specify under which circumstances you don't want your ads to appear.
You can exclude your ads from appearing in sensitive content.
Additionally, you can block any app in Meta Audience Network to exclude your ads.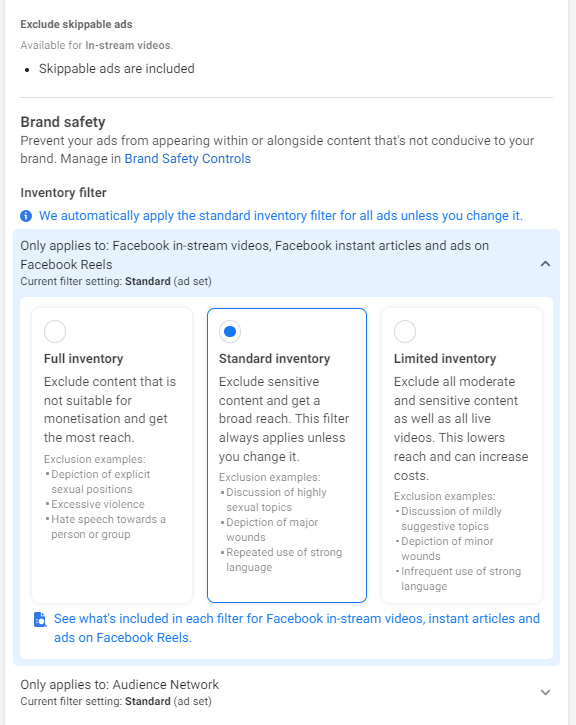 It is also possible to exclude your ads from appearing in a specific content type (e.g., live videos).
7. Analyse Your Audience Definition
Almost there to creating our first Facebook ad.
To see details about your target audience and estimated reach, see the 'audience definition' section on the top-right.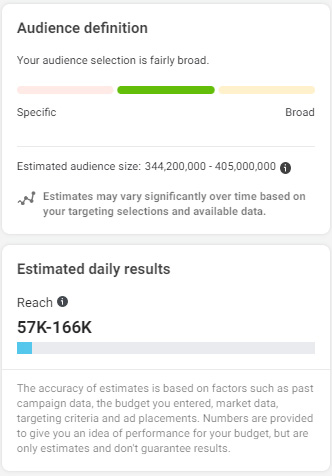 Check if your targeted audience size aligns with your advertising goals. Edit the information you have previously filled in to adjust the 'audience definition.'
Once satisfied with your audience definition, click Next to the final section.
8. Pick a format and create your ad
Assign a unique name to your ad.
Identity
Select the Facebook page of your business.
Connect an Instagram account if you have selected an Instagram platform to run ads.
Ad setup
You can create an ad from scratch or can use an existing post from your page as an ad.
Create an ad from scratch
Choose your preferred ad format: Facebook will show ad formats based on your campaign objective, so you might only see some designs.
Ad creative
If you turn on the 'Ad Creative' option in the previous steps, you should select media for your ad here.
Next, you select headline, description, and call-to-action.
Destination
It is where you specify where you intend to send people after they click through your ad.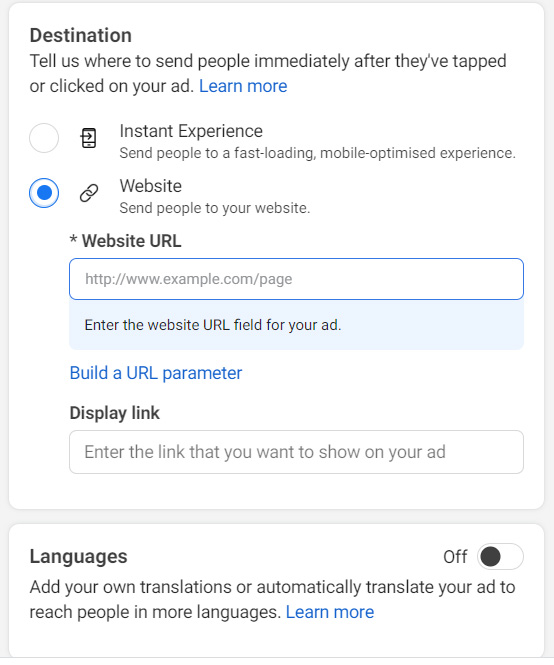 You can send them to your 'landing page website' or create an 'instant experience' and divert people there.
You can also translate your ads into other languages to reach a broader audience.
You can also set tracking for website and app events from here.
See Ad preview
While creating your ad, you can also see its preview on the right side of the screen.
Once you create your ad, click 'Publish,' fill in your payment details, and your ad is ready to be live!
Tips to leverage Facebook ads
Create great ad copy
Ad headlines and descriptions make people more likely to click through. So keep the ad copy tight.
Create a landing page funnel
If you are trying to sell through your ads, remember to use the sales funnel.
A/B Testing
Experimenting with your ads is a good practice, making your ad campaign more likely to succeed.
Track your campaign performance
Track your ad performance through Ad Manager, see what works and is not, and tweak and twist your campaign accordingly.
Conclusion
Facebook ads can yield excellent results if used strategically. Creating a campaign blueprint before creating ads can help you achieve excellent results.