Remote Recruitment and Tips to Recruit a Team
Remote Recruitment and Tips to Recruit a Team
A drastic increase in remote work has been seen since the pandemic. Remote recruitment has been on the scene for a long. It is not new to the industry. The Covid pandemic has given a boost to it. Employees love it as it has allowed them to work from the comforts of their home couches. It is a mixed reaction from employers. Elon Musk hates it. The first order after he bought Twitter was for all its employees to be physically present in the office. Some companies have chosen remote work even before the pandemic and have imbibed it as part of their culture. GitLab is a fully remote work company.
What is remote recruitment?
Remote recruitment is the process of interviewing and hiring a person to work for you who is geographically not located at your workplace. Right from shortlisting to work, execution happens via the Internet. No physical presence of the employee at the office. Everything digital.
Unlike the traditional way of recruitment, remote recruitment abolished the need to meet face-to-face.
"Remote work is the future of work. We're seeing a paradigm shift in the way companies operate and the way people work. I think it's exciting, but it also presents a lot of new challenges." - Matt Mullenweg, co-founder of WordPress
In remote recruitment, all the communication and collaboration happen by digital means, e.g., phone, email, text, video conferencing, and online collaboration tools, as the recruiter and the candidates are in different locations. As everything, from hiring to working, takes place over the Internet, unlike local recruitment, after selection, employees are not required to be present or shift to the location of the employer.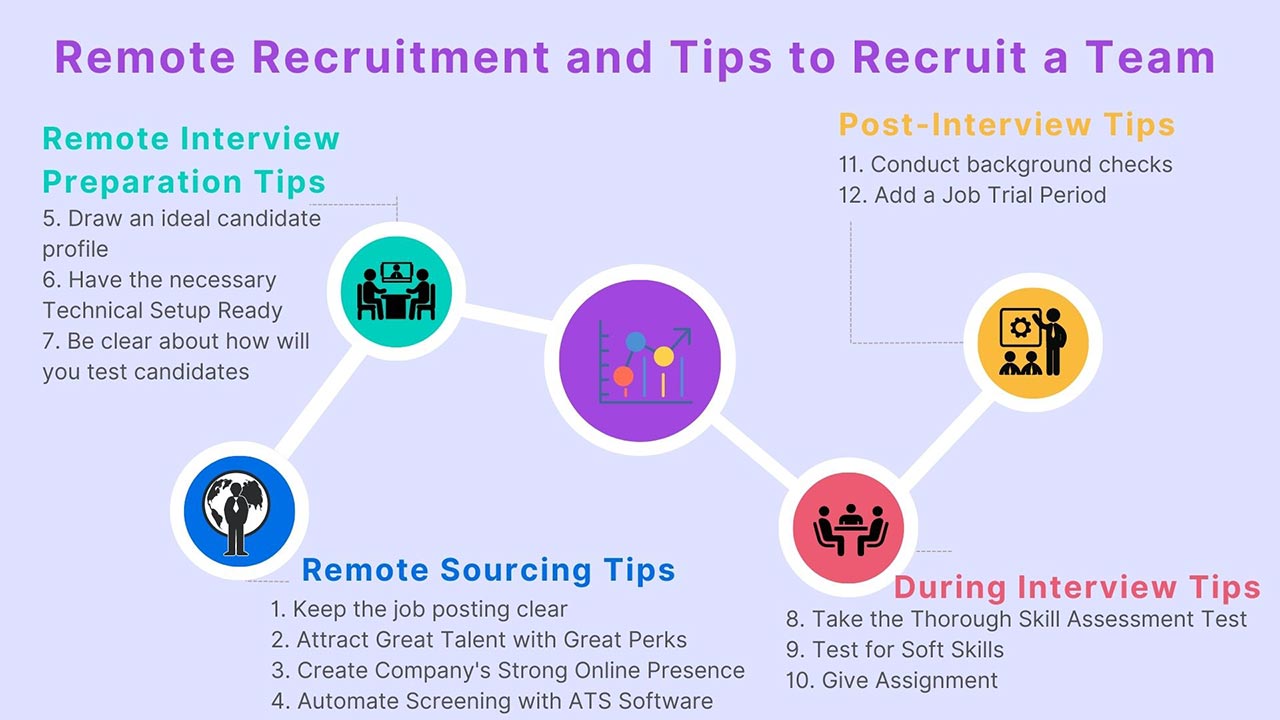 Advantages of remote recruitment
Remote recruitment mode is not merely beneficial for one party. Instead, it provides extensive benefits to both the recruiter and the candidates.
Time-saving
Cost-effective
Unlimited talent pool
Increased flexibility
1. Time-Saving
The remote recruitment process is faster than traditional recruitment. Unlike conventional recruitment, the time taken to travel and organize the venue is eliminated. It saves a significant amount of time for both the recruiter and the candidates.
2. Cost-effective
Traveling and organizing interview venues cost the recruiter a significant budget. For the candidates, traveling to and staying at faraway places often cost a lot. Remote recruitment removes these costs and is a win-win situation for both sides.
3. Recruit from an unlimited talent pool
In the traditional recruitment mode, recruiters are limited to recruiting from a specific city, state, or sometimes even from a country. However, in the remote recruitment mode, you can recruit talent from all over the globe. Even from Mars, if they have Internet over there! Just kidding ;)
4. Increased flexibility
Flexibility is one of the top advantages of remote recruitment. Both parties agree upon a fixed schedule that makes the process convenient and flexible.
Challenges in remote recruitment
Despite having several excellent benefits, like everything, the remote recruitment process also has many challenges that a recruiter must be aware of before they shift their hiring process to remote recruitment.
1. It's hard to judge body language over the Internet
Yes, video can help, but to a certain extent only. The gestures and subtle activities that can be captured vis-a-vis are hard to gauge over video.
2. It's hard to assess cultural fit and discipline
In-person interviews make it easier to judge candidates based on their punctuality, dressing sense, and soft skills. While remote interviews can test technical skills quickly, assessing the candidate's moral values and other soft skills is difficult.
3. Technical barriers
Technical problems like- lousy internet connection and software and hardware problems could be a nightmare sometimes in remote work and hiring.
These considerations can be highly reduced by following best practices while recruiting a team via remote mode.
Tips for remote recruitment
Remote recruitment could be challenging and overwhelming for companies doing it for the first time. Before expecting the best remote working practices, suitable candidates should be chosen. Although there is no one-size-fits-all solution to hiring remotely, these tips will help.
Keep the job posting clear
Attract great talent with great perks
Create a robust online presence for the company
Automate screening with ATS software
Draw an ideal candidate profile
Have the necessary technical setup ready
Be clear about how you will test candidates
Take the thorough skill assessment test
Test for soft skills
Give an assignment
Conduct background checks
Add a job trial period
1. Keep the job posting clear
The first step to remote recruitment is to post a job description that contains all the information about the job role and the required skillset.
Your ideal candidates see the posting and, on its basis, decide whether they should apply or not. Therefore, everything must be explicitly written in the ad so that any possibility of ambiguity can be omitted.
For example, instead of merely mentioning 'remote work,' explicitly define what you mean by 'remote work.' Some companies may represent a '2-day/week work-from-home as remote work. For others, it could be '5 days a week'. Explaining key points explicitly kills any possible chances of ambiguity and misunderstanding.
Additionally, shorter job ads can significantly reduce the chances of getting you the best talent. Therefore, keep it as detailed as possible.
2. Attract great talent with great perks
The traditional way of work provides many perks to workers, including free food, a gym, a cafe, and a few others.
As an employer, you can consider providing a few benefits to remote workers— for example,
Home office setup stipend.
Localized co-working space allowances.
Travel allowance for conferences.
Coffee shop gift cards.
Internet allowance.
OTT subscriptions.
Also, mention these benefits in your job ad to attract better talent.
3. Create a robust online presence for the company
Like an employer does thorough research about the candidates before hiring them, the same way the candidates perform enough research before being hired. Keeping the company's online profiles active by regularly posting about employees-activities, the organization's work culture, and employees-testimonials helps build the company's positive online presence.
4. Automate screening with ATS software
ATS stands for Applicants Tracking System. In the era of online job sourcing, getting thousands of irrelevant applications on your job posting is widespread. These types of software are mainly built to track unrelated applications and remove them from the list so that you only see what you need to see. A good number of ATS software is available on the Internet; find the one that suits you and use it to improve productivity.
5. Draw an ideal candidate profile
It's prevalent to have everything in mind until we need it. As human beings, we tend to forget things when they are most needed.
For instance, you may wonder if you know what you want to see in the candidates. However, a few things may slip off your head while interviewing the candidates. One must jot down key points before the interview starts to avoid such situations.
Having a clear picture of the expectations from the candidates, whether it's technical skills, soft skills, or moral values, makes the interview process more naturally flowing.
6. Have the necessary technical setup ready
To conduct remote interviews efficiently, you need (at least) video-conferencing software, e.g., Zoom or Google Meet, and skill assessment software to test technical skills. Most video conferencing software only provides free usage for a limited period and a limited number of participants. So please make sure you be aware of it.
"Remote work creates a powerful opportunity to expand the talent pool, allow people to live and work where they're happiest, and bring diverse perspectives and approaches to problem-solving. It promotes work-life balance, increases autonomy and trust, and reduces the cost" - Darren Murph, head of remote at GitLab, a fully remote company.
Depending upon which job role you are hiring for, you may also need skill assessment software. For example, if you are hiring for a software developer role, HackerRank, and CodeChef, to name a few, are a couple of skill assessment software. Additionally, ensure you have all the plan Bs ready before the interview begins. If your wifi doesn't work, you have mobile data, et cetera. These little things can help better the interview experience for both the recruiter and the candidate.
7. Be clear about how you will test candidates
One of the biggest challenges recruiters face in remote recruiting is testing the candidates for the perfect fit. During remote interviews, it's more likely that candidates represent them as what they are not. This can create confusion for the recruiter. To avoid such situations, the recruiter must be explicitly aware of the criteria on which they will judge their candidates.
Additionally, keeping a points-grading system, i.e., giving candidates a certain number of points for each question asked based on the difficulty level, will help the testing process become smoother.
8. Take the thorough skill assessment test
This is one of the things that remote interviews are far better than face-to-face interviews. Testing technical skills online is easier than ever, especially for IT job roles. Many software solutions in the market can help you find the best candidate for the desired job role(s).
Online skill assessment testing solutions help you test candidates based more on their practical skillset and less on their theoretical knowledge. Thus making it highly efficient.
9. Test for soft skills
I know it's not easy to judge soft skills in remote interviews, but it's not impossible, either. Good time management skill is an essential requirement for a remote worker.
A few things like the ones below are not very hard to test in remote interviews.
attitude toward work
leadership
collaborative spirit
A few are reflected in body language and confidence; others can be judged by asking simple questions. Keep your question ready beforehand.
10. Give an assignment
Although skill assessment tests, in themselves, are more than enough to test candidates for technical skills. However, if you want to be more sure and test candidates for more challenging or real-life tasks, giving assignment work can be a good way.
At the end of the interview, you can assign the candidate any assignment and a deadline to complete it. You should hold your decision until the assignment submission, and once the candidate submits the work, you can test based on it. This is proven to make the interview process more thorough, thus selecting the best candidate for the desired job role.
11. Conduct background checks
Once the interview has been completed and you have picked the candidate for the job. The next step is to conduct background checks about the candidate. This will undoubtedly slow the hiring process, but it should be a necessary step in remote recruitment.
Many roles might not require an in-depth reference check. Just checking candidates' social media profiles could be enough, but specific roles in high-risk sectors must legally require these checks.
With the Internet, it is not challenging. Several background checker websites can help you with this.
12. Add a job trial period
Even after conducting online skill assessment tests and assignment submissions by the candidate, if you are still in doubt, consider adding a one or 2-week job trial period. This trial period will help you better assess and understand your candidate's skills, leaving no room for doubts. Keep it paid so it becomes a win-win situation for both.
Moving forward
By far, if all the steps are followed correctly, possibly there should be no room left for doubt. You must be clear about whether one should be taken in or not. Proceed with documentation and welcome them onboard.
Remote recruitment may not be as effective as traditional recruitment. Still, it gives you a larger talent pool and brings diversity and productivity. Remote recruitment is the future, and one must embrace it as a recruiter.